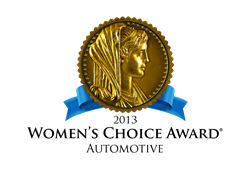 Watertown, MA (PRWEB) August 07, 2013
As the leading voice of womens recommendations, experiences and perceptions, WomenCertified? is pleased to announce that Toyota of Watertown has received the Womens Choice Award? for a second consecutive year. This award designation is based on extraordinary recommendations from their female customers in a customer satisfaction survey conducted by WomenCertified using the dealerships customer database.
Toyota of Watertown received excellent survey scores in several areas including the overall sales experience. In fact, 9 out of 10 women polled said they would definitely recommend Toyota of Watertown to their family and friends.
"Car buying remains the most dreaded shopping experience among women which is why the Womens Choice Award is widely sought after by progressive dealerships who appreciate being recognized as a dealer women can trust and refer with confidence," said Delia Passi, Founder of WomenCertified? and author of Winning the Toughest Customer: The Essential Guide to Selling to Women. "We are proud of Toyota of Watertown for taking ownership of their customer experience and creating a business environment that provides exceptional service both to women and men alike."
"We strive to make sure that everyone who walks through our door is treated with courtesy, honesty, and feels like a guest in our home. We are proud to be acknowledged by WomenCertified," says Adam Skolnick, GM, Toyota of Watertown.
To view the full list of Top Dealerships, visit: http://www.womenschoiceaward.com/awarded/automotive/dealerships/.
ABOUT TOYOTA OF WATERTOWN
Family-owned for more than 40 years, Toyota of Watertown is Greater Bostons premier Toyota dealership. A multiple-time recipient of Toyotas prestigious Presidents Award, Toyota of Watertown is widely acclaimed for their low prices and large selection of new and used vehicles, in addition to an award-winning customer service department. Toyota of Watertown is committed to ensuring their customers satisfaction throughout their period of ownership.
For more information, call 617-926-5200. You can also visit Toyota of Watertown on the web at http://www.toyotaofwatertown.com, like their Facebook page at http://www.facebook.com/toyotaofwatertown, or stop by their showroom on 149 Arsenal Street in Watertown, MA.
ABOUT WOMENS CHOICE AWARD
WomenCertified? is a marketing research firm, home to the Womens Choice Award, the only award that identifies brands that women recommend and serves as a competitive differentiator for businesses. Awards are based on surveys of thousands of women, as well as research conducted in partnership with the Wharton School of the University of Pennsylvania on what drives the consumer experience for women vs. men. To learn more, visit http://www.womenschoiceaward.com.