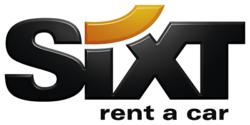 Fort Lauderdale, FL (PRWEB) November 22, 2012
Sixt, Germanys number one car rental company with more than 4,500 locations in over 100 countries, has received the 2012 Best Car Rental Company in the World award by the prestigious New York magazine Premier Traveler. The award was based on survey responses from more than 10,000 Premier Traveler readers on premiertravelerusa.com.
11,240 readers participated in the online survey from August 2, 2012, to September 22, 2012. 10,083 accepted responses were tabulated, reflecting nearly a 90 percent voter rate.
Premier Traveler used two rotating versions of the survey on its website to prevent ballot stuffing. The survey consisted of open-ended questions only, with no suggested names or choices provided. Results did not require indexing or demographic profiling.
The award ceremony took place on November 8, 2012, in Los Angeles at the Sofitel hotel, where representatives of the most respected travel industry companies also won awards in other categories from Premier Traveler.
Regine Sixt, Senior Executive Vice President of Marketing at Sixt, said of the award, We thank Premier Traveler readers for their votes and for rewarding our hard work. This is clear evidence that our presence in the U.S. came at the right time, when business and leisure travelers are looking for new and out of the ordinary affordable products and services that truly cater to their demanding needs.
In addition to this award, Sixt is also celebrating its 100th anniversary in business this year. Founded in 1912, Sixt is Europes oldest car rental company and has been family managed for 100 years. Sixt is the market leader in Germany, Austria, and many other countries and is present in more than 100 countries across all continents.
In 2011, Sixt started its expansion in the United States, where the company launched its car rental services with both premium and economy vehicle choices, with branches in Atlanta, Fort Lauderdale, Miami, Miami Beach, Orlando, West Palm Beach, and most recently Phoenix. The company plans to continue its expansion in the United States by opening more Sixt rental locations and finding franchise partners across the country.
About Sixt
Sixt AG, with its registered office in Pullach, Germany, near Munich, is an international provider of integrated mobility services. Founded in 1912, the company has been family managed for 100 years. Together with its franchisees and partners, Sixt has over 4,500 locations and is represented in more than 100 countries. Sixt is the market leader for car rentals in Germany and Austria, and the company currently operates branches in seven locations in the United States.
For more information, please refer to http://www.Sixt.com.