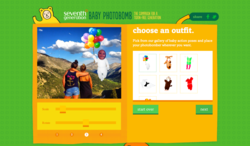 (PRWEB) July 11, 2013
Seventh Generation launches Baby Photobomb, a brand new Facebook-enabled website designed and developed by advertising agency Made Movement. With web tools like Unbaby.me removing babies from social media, this application fights back against the tide of anti-baby technology, by allowing users to insert their bundles of joy into Facebook friends special moments, via an intuitive baby-pasting image editor.
Baby Photobomb is a playful extension of leading green cleaning brand Seventh Generations Campaign for a Toxin Free Generation, which aims to spread the word that life without toxins is just more fun.
The application asks users to search their friend's Facebook photos and select the perfect one to photobomb. Romantic couple? Could use a baby. Beautiful sunset? Definitely needs a baby. The next step: impose an image of their child's face onto preloaded outfits, such as a superhero, a kung fu master, or even a dog. No baby? No problem. Users are encouraged to use the heads of their pets, friends, or even themselves. The final step: post the masterpiece to Facebook, tag photobombed friend, and help bring toxin free babies to the world!
Get photobombing here: http://www.babyphotobomb.com
About Made Movement:

Made Movement is the premier U.S. advertising agency dedicated to supporting a resurgence in American manufacturing. Founded in 2012 in Boulder, Colorado, by former Crispin, Porter & Bogusky executives, Made aims to create jobs and bolster Americas economy by supporting products manufactured in the USA. Mades current client roster includes Seventh Generation, Repair.com, Pangea, and New Belgium Brewing, among others. The agency and its work has been profiled in The New York Times, USA Today, Inc., Advertising Age, Esquire, Fast Company, Adweek, Los Angeles Times, and Forbes. Made Movement also runs an ecommerce site, Made Collection, which features design-forward products made in the USA. Visit http://www.mademovement.com for more information.
About Seventh Generation

Seventh Generation is the nation's leading brand of household and personal care products that help protect human health and the environment. Established in 1988, the Burlington, Vermont based company remains an independent, privately-held company distributing products to natural food stores, supermarkets, mass merchants, and online retailers across the United States and Canada.
Contact:

Made Movement

Carly Blitz, P.R. Manager

cblitz(at)mademovement(dot)com