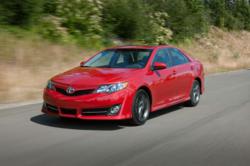 Ramsey, NJ (PRWEB) June 28, 2013
According to the J.D. Power 2013 Initial Quality Study(SM), the Toyota Camry received the highest rating in the Midsize Car category. This means that on average, the Camry had fewer owner-reported problems in the first 90 days of new-vehicle ownership than any of its competitors in the segment. Prestige Toyota has a large inventory of Toyota vehicles that includes the award-winning Camry, providing customers who are looking for a reliable sedan with some of the best options available.
The 2013 Camry adds the IQS Best in Class recognition to its growing list of accolades for this year, which already includes IntelliChoice Smart Choice Awards for Fuel Costs, Operating Costs, and Retained Value. The Camry was also recognized as a Top Safety Pick by the Insurance Institute for Highway Safety. According to this years registration data from R. L. Polk & Co., over 90% of all Camrys sold over the last ten years are still on the road today.
The Camry has been well-respected as a high-quality vehicle for over 30 years. So when it wins an award like this, it isnt a big surprise to us, said Steve Reedy, general sales manager at Prestige Toyota. Our customers have always loved the Camry because of its comfort, versatility, and dependability. Its a great family car with a ton of modern safety features, and its outstanding gas mileage makes it perfect for summer vacations.
J.D. Powers 2013 IQS was based on survey responses from more than 83,000 buyers of new 2013 model-year cars, trucks, vans and SUVs. Participants were surveyed after 90 days of ownership. Each vehicles score was based not only on problems that caused a complete breakdown or malfunction, but also on instances where controls or features worked as designed, but were rated as difficult to use and understand.
Toyota lease specials are currently available on the Camry and a variety of other Toyota models at Prestige. Any customer looking for a high-quality, dependable vehicle can visit Prestige Toyota at http://prestigetoyota.com, or call (888) 356-2136 to speak with a friendly, knowledgeable sales representative.
About Prestige Toyota

Prestige Toyota of Ramsey, New Jersey, is an authorized Toyota dealer that provides the surrounding area with quality Toyota vehicles, service, and parts. Thanks to Prestige Toyotas friendly and knowledgeable staff, exactly 4,986 shoppers found their best deal at Prestige Toyota in 2012. Prestige Toyota is owned by Prestige, one of the largest automotive dealership entities in the United States.
Sources:

autos.jdpower.com/ratings/quality.htm

pressroom.toyota.com/releases/toyota+camry+segment+jd+power+2013+iqs.htm

toyota.com/camry/awards.html