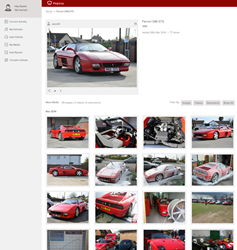 Abingdon, Oxfordshire (PRWEB UK) 12 May 2014
The history of cars, in particular, specialist, sports, and classics, is much more than a service book and a few invoices which owners typically keep. Patina is a web platform and mobile app that enables users to create a secure and rich digital record that can be transferred with the vehicle, helping to preserve and increase its value.
Capturing photos, videos, and documents, a vehicle record on Patina brings to life the history of a car in a secure, permanent format that cannot get mislaid, destroyed, or damaged.
As founder Tim Joslyn explains, It was surprising that even though people know how critical a vehicles history is to its value, nobody has created a better way of capturing or preserving it. There are so many people who spend significant time and money on their cars whether it is a full restoration, routine care, or special events, yet the majority of this history is lost when it is sold on. That is why we have created a very simple way for users to start creating records that will not only bring them benefits in the short-term in the form of increased values, but will last for the lifetime of the vehicle.
He added, It is very rare to be able to buy a car today with a comprehensive record of its life, something that in the future we aim to make a lot more common.
Available on the web at http://www.getpatina.com or in the Apple App Store, Patina makes it easy for users to upload their existing histories as well as adding rich media records on an on-going basis.
Whether you want to use it as a record of provenance, a tool to help you sell a car, or as a way of preserving experiences, our team have worked hard to make Patina the universal platform. Its intuitive, simple to use, and best of all, its free! said Tim.
For further information on Patina or this PR, please contact:
Tim Joslyn

Tel: +44 759 068 4760

Email: tim(at)getpatina(dot)com
Related Buy Used Car Press Releases