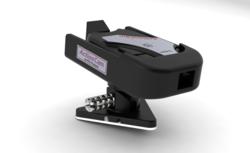 Rochester, NY (PRWEB) September 24, 2012
P.E.D. Products developed the Contour Mount for the ActionCam. The only conformable adjustable mount on the market. It's ideal for mounting to curved surfaces such as helmets, fenders, etc. It offers a quick and easy mounting solution for the ActionCam. With the tilt adjustment it makes an ideal solution for Helmet Camera applications.
Based on kinematic mounting principles, and the unique living hinge design, the Mount Base conforms to the desired mounting surface and is secured in place with 3M VHB double sided adhesive. The ActionCam can then be pointed as needed and fixed in place using the Thumb Screw. Because the ActionCam only weighs 1.2ozs. the mount is more than adequate to hold the camera securely in place. If the user wants to mount the camera indifferent locations, only additional Mounting Bases are required. Loosening the thumb screw, the ActionCam can be quickly and easily moved between locations.
The ActionCam is an ultra small action video camera that produces high quality true HD 720P video. Small enough and rugged enough, it can be mounted almost anywhere; it's a fraction the size of it's competition and only weighs 1.2 ozs!! It allows you to capture all your Action Videos, here are just a few of the uses people are using the ActionCam for; Car Racing, Motorcycle Racing, BMX Bikes, Cycling, Skiing, Hang Gliding, Hunting, RC Cars & Boats, Rock Climbing, etc. Whatever your passion.
For more information visit PED Products website or call.

http://www.ped-products.com