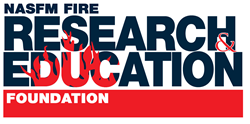 (PRWEB) September 10, 2013
The National Association of State Fire Marshals Fire Research and Education Foundation (NASFM Foundation) and Grinnell Mutual Reinsurance Company are pleased to announce 117 fire departments across the United States have earned the Life Safety Achievement Award for their fire prevention accomplishments in 2012. (See list of award-winning departments below.) For over 20 years, this award has recognized fire departments nationally for actively promoting fire prevention in the pursuit of saving lives.
When we hear the fire truck coming down the street and see its lights, we know firefighters are responding to someone in trouble. What we dont know is that these unsung heroes are doing a lot of things behind the scenes that save lives, said Alan Clark, assistant vice president of Special Investigations at Grinnell Mutual. The Life Safety Achievement Award recognizes fire departments for their fire prevention programs that have been proven to save lives year after year.
According to the National Fire Protection Association, in 2011, the most recent year for which statistics are available, more than 1.3 million fires were reported in the United States. The fires caused more than 3,000 civilian deaths, 17,500 civilian injuries, and almost $ 12 billion in property damage.
These nationwide loss numbers will not go away by themselves, said President of the NASFM Foundation J. William Degnan. Sustained effort is required on the part of communities to keep fires from claiming lives. The Life Safety Achievement Award recognizes fire departments for the positive results they achieve in protecting the lives of their citizens and emergency responders from fire.
To qualify for the award, fire departments must record zero fire deaths in residential structures or a 10 percent reduction of fire deaths from the prior year. In addition, they must demonstrate commitment to prevent residential fires in their local communities through active and effective fire prevention programs. The applicants also must present evidence by some measure (department-determined) that the department's fire prevention efforts increased over the previous year and made a positive impact.
This years award recipients have organized educational programs targeted to specific age groups, such as training for care providers of at-risk populations and juvenile fire-setting intervention programs. They participated in fire safety inspections and home fire safety surveys, emergency evacuation drills, smoke alarm giveaways and installation assistance, the National Gasoline Safety Project Stop Gas Fires, and child car seat installation and safety checks. They have provided safety information through open houses, community events, newsletters, YouTube videos, and street boulevard banners, as well as by working with local news stations to provide monthly fire safety video clips. Recipients were also active in increasing fire sprinkler coverage in homes and encouraging the adoption of fire prevention codes that require residential sprinkler systems.
We are impressed by the variety and creativity of many fire department programs reported by our award winners, said NASFM Foundation Executive Director Jim Narva. We are also seeing more emphasis on residential sprinkler implementation, as well as an increased use of social media to reach audiences, particularly the younger demographic in communities.
While funding for fire suppression efforts will always be necessary, spending money and time preventing a fire or significantly reducing its impact is preferable to having to respond after a fire has occurred, added Narva. Our Life Safety Achievement Award recipients recognize that and fight for more fire prevention resources every chance they get.
The 2012 Life Safety Achievement Award recipients named in the summer of 2013 include:
Alabama

Adamsville Fire Department, Adamville

City of Dora Fire Rescue, Dora

Cullman Fire Rescue, Cullman

Springville Fire & Rescue, Springville

Tuscaloosa Fire & Rescue Service, Tuscaloosa
Arizona

Golder Ranch Fire District, Tucson

MCAS Yuma Fire Department, Yuma
California

University of California, Irvine
Connecticut

Cheshire Fire Department, Cheshire

City of Meriden Department of Fire Services, Meriden

East Great Plain Volunteer Fire Co, Norwich

East Haven Fire Department, East Haven

Mansfield Fire Department, Mansfield

Naugatuck Fire Department, Naugatuck

Suffield Fire Department, Suffield

Thomaston Volunteer Fire Department, Thomaston

Tolland Fire Department, Tolland

Town of Woodstock, Office of the Fire Marshal, Woodstock
Florida

Casselberry Fire Rescue, Casselberry

Clermont Fire Department , Clermont

Immokalee Fire Control District, Immokalee
Idaho

Coeur d'Alene Fire Department, Coeur dAlene

Moscow Volunteer Fire Department, Moscow

Nampa Fire Department, Nampa
Illinois

Countryside Fire Protection District, Vernon Hills
Iowa

Alburnett Fire Department, Alburnett

Bettendorf Fire Rescue, Bettendorf

Clive Fire Department, Clive

Deep River Volunteer Fire Co., Inc., Deep River

Grinnell Fire Department, Grinnell

Le Mars Fire-Rescue, Le Mars

Marion Fire Department, Marion

Spencer Fire Department, Spencer

West Burlington Fire Department, West Burlington
Kansas

Derby Fire & Rescue Department, Derby
Louisiana

Grayson Volunteer Fire Department, Grayson
Massachusetts

Bellingham Fire Department, Bellingham

Bridgewater Fire Department, Bridgewater

Merrimac Fire Department, Merrimac

Oxford Fire-EMS, Oxford

Topsfield Fire Department, Topsfield

Wendell Fire Department, Wendell

West Bridgewater Fire Department, West Bridgewater

Yarmouth Fire Rescue, South Yarmouth
Michigan

Olivet Fire Department, Olivet

Tittabawassee Fire Department, Freeland
Minnesota

Alexandria Fire Department, Alexandria

Brainerd Fire Department, Brainerd

Canby Volunteer Fire Department, Canby

Chaska Fire Department, Chaska

City of Hastings Fire Department, Hastings

Cloquet Area Fire District, Cloquet

Eden Prairie Fire Department, Eden Prairie

Farmington Fire Department, Farmington

Hopkins Fire Department, Hopkins

Kensington Fire Department, Kensington

Lake Henry Fire and Rescue, Lake Henry

Maple Grove Fire-Rescue, Maple Grove

Moorhead Fire Department, Moorhead

Roseville Fire Department, Roseville

Spring Lake Park Fire Department, Spring Lake Park

Waldorf Fire Department, Waldorf

White Bear Lake Fire Department, White Bear Lake
Mississippi

City of Louisville Fire Department, Louisville

Columbus Fire & Rescue, Columbus
Missouri

Battlefield Fire Protection District, Battlefield

Bethany Fire Department, Bethany

Boles Fire Protection District, Labadie

Bolivar City Fire Department, Bolivar

Branson Fire & Rescue, Branson

City of Republic Fire Department, Republic

Columbia Fire Department, Columbia

Eureka Fire Protection District, Eureka

Fort Osage Fire Protection District, Buckner

Roby Fire Department Inc., Roby

Rock Community Fire Department, Arnold

Southern Platte Fire Protection District, Kansas City

Sull