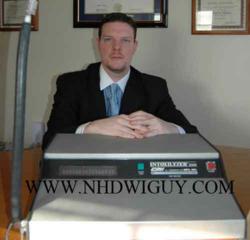 Concord, New Hampshire (PRWEB) May 30, 2013
Liberty Legal Services PLLC, and Attorney Dan Hynes, the New Hampshire DWI GUY are proud to announce the hiring of a new Associate Attorney, Jason Dennis. Attorney Dennis will be handling Family law, criminal law, including DWI/DUI, and personal injury cases. Jason Dennis is a graduate of Indiana University Maurer School of Law, and is admitted to practice law in Massachusetts, New Hampshire, and the U.S. District Court. Jasons previous experience includes appellate work, civil litigation, and civil rights claims. Attorney Dennis is a member of the Concord Young Professionals Network, and the New Hampshire Bar Association New lawyers committee.

Jason will work primarily out of the Concord office at 10 Ferry St. #441, Concord, NH 03301, while Liberty Legal serves the entire state of New Hampshire with offices in Concord, Manchester, Hudson, and Portsmouth.
Attorney Dennis is already off to a great start as a trial attorney. On May 28, 2013, at Laconia District Court, he received a Not Guilty verdict after trial on a DWI 2nd offense case, which carried a minimum license loss of 3 years and mandatory jail time of 30 days if the client was found guilty of the driving while intoxicated charge. Liberty Legal Services strives on fighting the difficult cases and not just accepting pleas.
Attorney Hynes, the founder of Liberty Legal has litigated over 100 combined DWI cases at both the New Hampshire DMV (department of safety) and in Courts all throughout New Hampshire. Daniel Hynes has represented hundreds of drivers charged with DWI in just about every court throughout NH. Attorney Hynes has been recognized for his trial experience and success and has been selected as a top 40 under 40 Lawyer in New Hampshire two years in a row by the National Trial Lawyers Association.
For the past few years, Dan Hynes the New Hampshire DWI Guy has only represented clients charged with DUI offenses. He is presently the only lawyer in New Hampshire who only handles DWI cases.
Attorney Hynes is the author of three books on DWI: Drunk Driving, and Drugged Driving Defense. One version is for New Hampshire DWI Lawyers representing clients charged with DWI. Another is for New Hampshire clients charged with DWI, and the latest version is for drivers in Massachusetts charged with OUI.
Attorney Hynes is one of only a few lawyers throughout the State of New Hampshire with training as a field sobriety test instructor under NHTSA guidelines. This is the same class for police officers who train other officers on how to administer field sobriety tests. Daniel Hynes also has completed training as it relates to DWI drug detection – NHTSA /IACP Drug Evaluation.
Attorney Hynes is an owner of the Intoxilyzer 5000en, which is the same model of the breath test machine used all throughout the state. Having a reputation of devoting his practice to drunk driving defense, attorney Hynes is often recommended by other lawyers, and sometimes those in the court system.
Dan Hynes has dedicated his career to helping those accused of criminal offenses. He has never been a prosecutor and understands when clients come to him at one of the most difficult times in their life, they have the presumption of innocence, and he will put forth the best defense he can to obtain a Not Guilty verdict or obtain a favorable settlement.
Liberty Legal Services offers free consultations on criminal offenses, and charges contingency fees on most personal injury cases such as car accidents or motorcycle accidents. As a motorcycle rider, Attorney Hynes recognizes the dangers of those who like to enjoy the open road on a motorcycle.
If you have been charged with driving under the influence – DUI in New Hampshire, give one of the DWI lawyers at Liberty Legal Service a call to see how you can present the best defense. You can call 24/7 and same day appointments are often available.
Find More Best Used Cars Under 5000 Press Releases