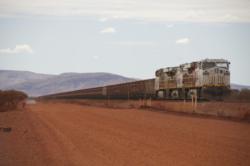 Sydney, Australia (PRWEB) June 27, 2013
Loc8.com, developers of the class-leading asset maintenance and field service software Loc8, has expanded its reach further into Australian mining sector after successfully implementing its solution at BHP Billiton Iron Ores rail operations, centered in Port Hedland, Australia.
Loc8.com was engaged to deploy its asset fault and maintenance solution for the management of BHP Billion Iron Ores locomotives and ore cars on its largest rail network that stretches over 1500 kms in the remote Australian Pilbara.
BHP Billiton needed an efficient asset management software solution that could reliably record and control the thousands of locomotive and ore car assets managed at its state-of-the-art Ore Car Repair Shop (OCRS) in Port Hedland, Australia. In addition to this 24/7/375 demanding requirement, the solution also had to perform a vital damage management function, to ensure that BHP Billitons wagons are promptly returned to traffic after attention by its skilled technical force.
Loc8 has been live and operational in BHPs Ore Car and Locomotive Repair shops for nigh on 6 months, and Dean Marlow, Superintendent of Rail Growth, affirmed without Loc8.com our maintenance workshop simply does not run.
The selection of Loc8 as the preferred operational fault and asset management tool by BHP Billiton Iron Ore is a great reinforcement of Loc8s unique ability to help companies deal with faults and maintenance of assets across highly dispersed and remote locations, said Owen Batt, Loc8.coms Chief Information Officer.
Our tools are used as operational interfaces to corporate products, such as BHP Billitons 1SAP. Loc8 does not replace these important corporate systems, but becomes a highly complementary interface to them, providing specific workflows to end users who might not otherwise be able to use these products, or have issues and workflows that these products are not designed to aid.
We have created a unique, live software environment that extends from the office help desk right out into the field with class-leading iOS and Android mobile tools, explained Owen. We have been able to solve issues for BHP Billiton that have been problems for years, and its definitely as a result of our approach and the technology we have built our IP on.
Rail has become a solid niche for our products, and we find it exciting to be involved with the mining sector both here in Australia, and in our growing overseas markets, says Owen.
Loc8 enables companies to manage the maintenance of any type of asset or facility, from Loc8s built in help desk and asset maintenance functions, through to the live dispatch of work orders down to field engineers on their iOS or Android devices who complete onscreen field service reports and collect customer signatures digitally.
Loc8.coms OnTrack gives rail operators an amazing fault & network maintenance tool. Its specialist rail operations team provides a product tailored to the complexity & technicality of the rail operator. As a result, it is used by some of the largest rail networks. Loc8.com OnTrack helps rail operators with:


Rail asset management & maintenance;
Fault management & tracking to resolution;
Safety and maintenance audits;
Delay accounting for delays resulting from faults;
Locomotive, rolling-stock, signals, level-crossing, & track maintenance (preventative & reactive);
Network assets, allowing system chains for fault impact analysis & delay management;
In-field technician mobility & real-time, remote job dispatch;
RFID tracking of locomotives, rolling-stock and sub-components, such as axels;
Integration to enterprise systems, such as SAP & Oracle.
About Loc8.com
Founded in 2011, Loc8.com is changing the way businesses approach asset maintenance and field service. The old paradigm of selling EAM, CMMS and field service systems is wrong businesses, large and small, need all of these elements to compete and be productive. Loc8.com is powering this through its Service Supply Chain giving small, medium and large enterprises unprecedented operational control, while decreasing cost and increasing margins.
Despite our sophistication, weve been able to use some engineering magic to make Loc8.com super fast, easy and fun to use.
Headquartered in Sydney, Australia with offices in Melbourne and London, Loc8.com works across all industries, including engineering, rail, health, defence, education, petro-chemical, resources, manufacturing, transportation, building and construction, and government.
Customers include BHP Billiton, Rio Tinto, Auto Fire Protection, AIC Solutions, Vysionics, Corning Cable, United Group Ltd, Programmed Maintenance Solution, Kangan Batman TAFE, Realestate.com.au, King Abdullah University of Science and Technology, and Spotlight Stores.
For company information, please visit: http://www.loc8.com or via http://www.twitter.com/loc8com.