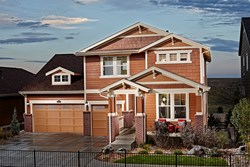 Denver, CO (PRWEB) September 09, 2013
Lennars NEXT GEN? The Home within a Home? has been spotlighted on the NBC Nightly News, ABC News with Diane Sawyer, The New York Times, Bloomberg, CNN, FOX News, The Chicago Tribune, USA Today, The Wall Street Journal, The Miami Herald, as well as several other news sources. These news outlets have all recognized that Lennar is the first national homebuilder to see the need for individual homebuyers and families to double up in order to share the cost of their mortgage and other living expenses, especially during these economic times. This is the comeback of multi-generational living.
Lennar will be offering both the Woodbridge and Hanford NEXT GEN? floorplans at Leyden Rock and Terrain. The Woodbridge is a ranch style floorplan consisting of 2,527 square feet; the main home offering 3 bedrooms, 2 bathrooms and a 3-car garage. And, the NEXT GEN? private suite includes a bedroom, private living area, kitchenette, laundry and private entrance. To tour a fully decorated model of the Woodbridge, visit Lennars Terrain community in Castle Rock.
The Hanford is a 3,022 square foot, 2 story home; the main home consisting of 4 bedrooms, 3.5 bathrooms and a 3-car garage, and the Next Gen? private suite includes a bedroom, private living area, kitchenette, laundry and private entrance. Lennar designed this unique floorplan to be incorporated into the main home floorplan in a way that allows it to be a separate space but also offers direct access from the main house, depending upon the familys needs. To tour a fully decorated model of the Hanford floor design, visit Lennars Leyden Rock community in Arvada.
Lennar is beyond excited to bring this revolutionary new floorplan to the Denver area. This new trend of multi-generational living has encouraged Lennar to design a home that allows extended family to live all together in one home except with separate living spaces. Be the first to tour this buzzed about new home! This is extremely exciting for our company and to our customers and we are thrilled to be able to bring this ground-breaking floorplan to the area! said Rusty Crandall, Division President Lennar Colorado. We are constantly keeping our finger on the pulse of new trends in homebuilding and these extraordinary floorplans are taking the company to the next level of innovation in homebuilding and providing homebuyers with even more flexibility and choices in the way they live.
According to Lennar, after conducting much research and seeing a rising need for this type of living situation, Lennar decided to design distinctive floorplans that can accommodate different living arrangements while still providing great use of space, square footage and, most importantly, privacy. We have created this plan to allow for dual living situations without sacrificing comfort its literally a home within a home, stated Crandall. The economy has dramatically contributed to the decision to build this type of product. Many aging parents have seen their retirement investments diminish during recent years and many college-age children are finding it necessary to move back home. With housing typically being the largest part of the monthly budget, moving in together is an option many are embracing. The opportunity for families to share a mortgage makes a lot of economic sense for many families, added Crandall.
As with all of Lennars homes, NEXT GEN? – The Home Within a Home? floorplan comes with incredible Everythings Included features such as full unfinished basements, air conditioning, gas fireplace, hardwood floors, upgraded cabinets, granite kitchen countertops, all kitchen appliances and so much more! In addition, buyers will also enjoy several hi-tech energy efficient features already included in the homes such as, home automation, 2 x 6 exterior walls, radiant barrier roof sheathing, Energy Star? rated appliances and much more. For more information about Lennars NEXT GEN? – The Home Within a Home?, call 720- 836-5271 for Leyden Rock, 720-836-5251 for Terrain, or visit LENNAR.com/Denver.