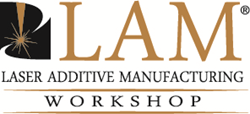 Orlando, FL (PRWEB) April 25, 2014
Record attendance and spirited discussion from beginning to end marked the most successful Laser Additive Manufacturing (LAM?) Workshop to date. LIAs sixth annual LAM spotlighted a multitude of promising developments in AM research, materials and processes, and previewed progress on the horizon.
Organized into two educational tracks, showcasing powder-bed processes March 12 and powder-fed technology March 13, LAM 2014 brimmed with case studies and highlights from around the world. More than 200 attendees traveled to Houston from more than a dozen countries, drawn not only by a wide-ranging slate of presentations but also the opportunity to talk directly with suppliers of AM solutions.
Attendees got a nuts-and-bolts look at all angles of additive manufacturing performed with machines by Concept Laser, EOS, Phenix, ReaLizer, Renishaw and SLM Solutions with materials like Inconel 625 and 718, titanium TiAl6V4, aluminum AlSi10Mg, stainless steel 316, maraging steel, cobalt chrome and more. A 90 minute panel discussion on powder-bed processes at the end of day one provided an opportunity to quiz 10 experts, who were then available to resume those discussions during the 90 minute exhibitor reception that followed.
Its a broad industry, and you can see that everybody in the world is getting into it, said first-time attendee Nick Vassiliou of Lockheed Martin Aeronautics. Were going to start getting into it with our repair business. Were exploring possibilities and trying to add our knowledge to the industry when we get up and running.
Among the recurring themes of LAM 2014 were that:
Key players worldwide are not shy about investing significant time and money toward expanding AM capabilities in the automotive, aerospace, energy, medical and even consumer-goods sectors. A primary quest is for machines with larger build chambers to produce larger parts.
There remains no cookbook for how to engage in additive manufacturing. But novel practices like crowdsourcing design ideas for AM parts, or printing parts from customers CAD data and shipping the results, demonstrate the evolving business practices AM is fostering.
Process monitoring and control are vital to ensure that hours of production time arent for naught because an error early in the layer-by-layer manufacturing process went undetected.
Data either too much or too little remains a core challenge. On the one hand, generating gigabytes of AM process data can impede the ability to zero in on vital manufacturing parameters. On the other hand, AM users struggle without relevant databases for instance, those that define the properties of metal powders or ensure repeatable parts and products.
Industry Highlights
Chaired by Jim Sears of GEs Global Research Center in Niskayuna, NY, the program for LAM 2014 featured about two dozen speakers who offered a wealth of AM success stories and spurred intense Q&A sessions. International perspectives ranged from repair and manufacturing initiatives in the US and Europe to South America and Australia. Notable global developments included:
Day one keynote speaker Todd Rockstroh noted 1,000 pound weight reductions in external engine components at GE Aviation, but cautioned that in some cases post-production inspection can account for 25 percent of AM costs. He also updated his audience on GEs Leap engine fuel-nozzle project, which combines 20 parts into one additively manufactured component with five times the working life and 25 percent less weight. GE expects to produce more than 40,000 per year by 2018.
Frederick Claus of California-based Solid Concepts showed how the company additively manufactured a 1911-model handgun in 36 hours, cutting hand-finishing time from 500 hours on the first attempt to 50 with subsequent efforts. Built out of stainless steel 17-4PH with CAD data obtained from the Internet, the weapon has since been used to fire more than 3,500 rounds. However, Claus noted the weapon costs $ 11,900: We didnt do this to make it lighter or cheaper or faster but to prove the technology.
South Africas Aerosud, which makes parts for Boeing, Airbus and others, envisions that its Aeroswift project will grow titanium aerospace parts measuring 2 meters by .6 meters by .6 meters, about 6.5 feet by 2 feet by 2 feet.
Australias RMIT University opened a $ 25 million AM precinct in 2011, said the schools Milan Brandt. The research and teaching facility is geared to supporting local companies transitioning to new manufacturing technologies. For Australia, we have to look at niche markets; we cant compete globally with the US or Europe, Brandt said. Among RMITs projects are efforts to repair Australias aging US-made aircraft, as well as assessing the laser direct manufacture of small-scale, high-value components for a joint-strike fighter plane. While working on aircraft parts like landing wheels, engine mounts and rudder anti-rotation brackets, RMIT has also partnered with an orthopedic surgeon who performs surgery on cancerous bones and provides just-in-time bone-specific implants.
Frances IREPA LASER, a technical center for industrial laser applications, demonstrated how it spurred technology transfer to a spinoff business after building its CLAD five-axis AM machine with two clad heads (1 mm and 2.2 mm). The CLAD machine, which features Precitec process monitoring with four photodiodes, can achieve deposition rates up to five meters per minute and has been used for repairing knife edges on sealing rings for a Pratt & Whitney turbofan engine. After validating the two-hour-per part process with metallurgical examination and fluorescent penetration inspection, the technology was transferred to a company called BeAM, and more than 600 parts have repaired with the process.
The biggest challenge is getting our designers and engineers to think away from conventional, classical machining, Rockstroh urged. Ingomar Kelbassa of RWTH Aachen University echoed the theme: We need a new generation of engineers who can think additively. Kelbassa and others also called attention to a pressing need for AM-specific powders tailored to the demands of contemporary 3D printing.
When asked what the next big application might be besides aerospace, Rockstroh pointed to medicine: I think they are going to stay ahead as the FDA starts certifying use of those implants in the States. Thats the nice thing about cobalt chrome: it works in our fuel nozzle, and the medical industry keeps the (powder) price relatively low. I dont see, at least on the metals side, anybody taking over the volume of the medical industry; thats going to be the next mushroom.
Applications and Materials
Examples of strides toward a new paradigm in manufacturing for the 21st century were exhibited by, among others, Germanys Fruth Innovative Technology (FIT), Michigans Linear Mold and Engineering and the Quad City Manufacturing Laboratory on the Rock Island Arsenal in Rock Island, IL.
FIT, which is reducing data file sizes by focusing on 2.5D imaging vs. 3D, can deliver custom implants to patients in Europe in three days for example, for a motorcyclist with a fractured jaw. Presenter David Schafer said targeted handling of production information has helped the company tailor data points to specific AM technologies, cutting file sizes up to 80 percent for its 20 AM machines (13 for plastics and seven for metals).
Meanwhile, Linear, founded in 2003, claims to own the most AM machines of any service provider in North America and runs 11 materials on those machines, according to Bruce Colter, director of new business development. We just recently cracked the code on how to do production in the metals business, Colter noted, turning out 20 to 50 parts a month. Thats kind of the holy grail everybodys looking to get to. A lot of people make part