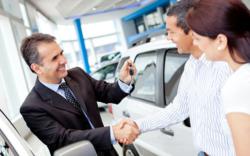 Raleigh, NC (PRWEB) March 05, 2013
GetApprovedforaCarLoan.com, a top resource in terms of new car buyer education, is in agreement with a new study released by Interest.com concerning new vehicle affordability. This study showed that the average price of a new vehicle in the United States, $ 30,500, is not within reach of the average American household, given a few smart financing parameters:
-20 Percent Down Payment

-Financing Term of 48 Months or Less

-Monthly Payment of No More Than 10% Income
These financing parameters have long been espoused by the team at GetApprovedforaCarLoan.com. With years of experience in the automotive and finance industries, they have witnessed far too many consumers stretch their budget in order to afford the vehicle they want. The most common issue is lengthening the finance term to 60, 72, or even 84 months in order to reduce the monthly payments. Unfortunately, these long term auto loans carry many risks, most acute of which is the dreaded negative equity or "upside down" scenario. This denotes a situation in which the borrower owes more on his or her vehicle than it is worth, meaning they cannot sell the vehicle without owing a "deficiency balance."
The study found that the average new car payment is slightly more than $ 600. If this were 10% of the buyer's monthly income, this would equate to an annual income of $ 72,000. Obviously, the average American is far less than this. In 2011, the average per capita income was $ 40,560, and only one state, the District of Columbia, enjoys a per capita income of more than $ 70,000.
Given the prohibitive cost of contemporary new cars, GetApprovedforaCarLoan.com encourages car-shoppers to consider late-model, pre-owned vehicles, ideally purchased through the manufacturer's Certified Pre-Owned (CPO) program. "Pre-owned cars and trucks have already undergone that steep initial drop in value," said one senior VP at the company. "This makes them less susceptible to negative equity, and means that lenders often expect a less down payment, more in the range of 10% than the 20% expected with a new vehicle." This official went on to remark that savvy car buyers nearly always opt for a late-model used car or truck, knowing full well that they are avoiding the depreciation "hit" experienced when buying a vehicle straight off the showroom floor.
About GetApprovedforaCarLoan.com: Founded in 2011, this educational resource teaches prospective borrowers how to get approved for a car loan, and even offers an online loan-matching service. Many specific scenarios are addressed, including how to get approved without a cosigner, with no credit, or with past or current credit problems.