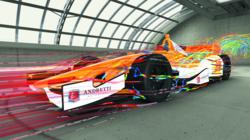 Burlington, MA (PRWEB) November 08, 2012
Aided by aerodynamic improvements using Exa? Corporation's (NASDAQ: EXA) PowerFLOW? simulation results, Andretti Autosport? drove into the winners circle claiming the 2012 overall IZOD IndyCar Series as well as the Oval Championship titles. The trip to the podium for the overall IndyCar Championship was the first for an American team since 2006.
This challenging IZOD IndyCar Series truly tests the cars engineering as we need to adapt to ovals, permanent and temporary road courses from race to race, commented Andretti Autosport President and CEO Michael Andretti. Exas simulation accuracy and fast throughput were key factors in our success. We were especially thrilled with the aerodynamic performance this year; the insight the PowerFLOW simulations afforded us to analyze and optimize our car virtually between races made an enormous impact on our season.
The Andretti Autosport team had high aspirations for the 2012 season but had limited access to wind tunnel and track testing due to their high costs. They worked with Kevin Golsch of Golsch Racing LLC who recommended using Exa PowerFLOW for accurate aero simulation. Given their goal of modifying the vehicle in between races, my years of motorsport industry experience and knowledge of traditional CFD codes made recommending PowerFLOW to the Andretti Autosport team an obvious choice, said Golsch. PowerFLOWs ability to handle the complete, complex geometry of these racecars allows teams to quickly and accurately test even minor modifications that could make a big impact aerodynamically.
The Andretti Autosport team validated their initial PowerFLOW runs with a moving ground wind tunnel. The results comparison gave us complete confidence in the accuracy and reliability of our Exa simulations, remarked Senior Development Engineer Tino Belli. We were somewhat surprised by the PowerFLOW results. Not all improvements indicated by simulation were intuitive, even with our collective breadth of racing expertise. PowerFLOW helped us identify new areas to explore virtually prior to car modifications. It was a huge cost savings for the team to test predominantly through simulation and reduce our tunnel testing to the bare minimum.
The 2013 season will prove challenging for all IndyCar teams. Testing regulations have put a limit on full size wind tunnel testing to two days per team and four days for engine manufacturers. Michael Andretti remarked, We feel ahead of the curve in our adoption of simulation as part of our engineering process and look forward to a winning season in 2013.
About Exa Corporation

Exa Corporation develops, sells and supports simulation software and services to enhance product performance, reduce product development costs and improve the efficiency of design and engineering processes. Our simulation solutions enable our customers to gain crucial insights about design performance early in the design cycle, thus reducing the likelihood of expensive redesigns and late-stage engineering changes. As a result, our customers realize significant cost savings and fundamental improvements in their engineering development process. Our products include: PowerFLOW?, PowerDELTA?, PowerCASE, PowerCLAY?, PowerVIZ?, PowerSPECTRUM?, PowerACOUSTICS?, PowerINSIGHT?, PowerCOOL? and PowerTHERM? along with professional engineering consulting services. A partial customer list includes: AGCO, BMW, Ford, Hyundai, Kenworth, MAN, Nissan, Peterbilt, Renault, Scania, Toyota, Volkswagen, and Volvo Trucks.
Founded in 1991, the company is headquartered at 55 Network Drive, Burlington, MA, USA 01803. Tel: 1.781.564.0200; Fax: 1.781.564.0299; Email: info(at)exa(dot)com; URL: http://www.exa.com; NASDAQ: EXA
Exa, PowerFLOW, PowerCLAY, PowerTHERM, PowerCOOL, PowerSPECTRUM, PowerDELTA and PowerVIZ, PowerACOUSTICS and PowerINSIGHT are registered trademarks of Exa Corporation. All rights reserved.
Andretti Autosport is a registered trademark ? 2011 of Andretti Autosport, All rights reserved.