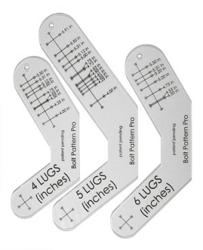 Mukwonago, WI (PRWEB) October 17, 2012
The award winning Bolt Pattern Pro has received US patent approval, turning the cumbersome chore of wheel and rim sizing into a simple two step task. Proper fitment is not an option for anyone buying or selling wheels or rims, its a necessity. Predecessor tools and methods have proved to be at their best, cumbersome or complicated, and at their worst, inaccurate. The Bolt Pattern Pro has addressed the most common obstacles to obtaining a precise measurement.
Offered exclusively by ThreadToolSupply.com, a leading innovator in automotive fastener tools, the Bolt Pattern Pro is an easy to use three piece set. First, one must select the appropriate gauge for their vehicle the four, five, or six lug tool. Second, align the cross hairs on the clear transparent gauge with two of the wheels lug nuts to obtain an exact bolt pattern measurement. The three gauges account for 29 of the most common bolt patterns.
Unlike other bolt pattern gauges, the Bolt Pattern Pro is designed to go around the hub. An exact measurement can be taken without having to remove the hub, saving time and unnecessary hassle. Five lug wheel bolt patterns generally require multiplication and the assistance of a calculator to derive a correct measurement, not so with the Bolt Pattern Pros unique design. Furthermore, half the wheels on the market are metric, to which this is addressed by the inclusion of a laminated inch to metric conversion chart.
Do you have rims that will fit my car? Wheel and tire dealers, auto repair shops, auto parts stores, car dealerships, and junk or salvage yards address this question countless times every day. To date their options have included the use of inadequate tools as referenced above and/or trusting a reference manual or online search. Rather than waste valuable time searching for this information hoping whats found is indeed correct, the Bolt Pattern Pro can quickly ensure an exact measurement without the need to trust third party information.
With the patent approval now behind us and the products official launch upon us, I believe our new gauge will promptly replace any other tools or methods used to measure the bolt pattern of a vehicles wheels. Anyone relying solely on a reference manual should have the Bolt Pattern Pro on hand to confirm their findings. Proper fitment shouldnt be guesswork, said John Winkler, founder and president of ThreadToolSupply.com.
Proudly made in the USA, ThreadToolSupply.com stands firmly behind its product with a 30 day money back guarantee and one year warranty. With the customer feedback weve received during our soft launch in the patent pending stage, we feel confident that the Bolt Pattern Pro will meet or exceed our customers expectations," said Winkler. Not only does the Bolt Pattern Pro have the approval of its customers, but it is also a SEMA Best New Product of the Year award winner for the Wheel & Related Product category.
About ThreadToolSupply.com
ThreadToolSupply.com is a leading supplier of innovative fastener identification, conversion and repair tools headquartered in Mukwonago, Wisconsin. Products include an extensive selection of nut, bolt, and screw thread gauges, thread adapters, reducers, and enlargers, helical and key locking thread inserts, split die thread chasers, extraction tools, and related fittings.
For more information, call ThreadToolSupply.com toll-free at 888-835-0868 or visit them on the web at http://www.threadtoolsupply.com.