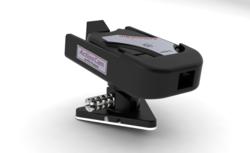 Rochester, NY (PRWEB) September 28, 2012
P.E.D. Products ActionCam receives Big Bow Outdoor Productions stamp of approval! Big Bow Outdoor Productions LLC is a company dedicated to promoting local fair chase hunting and other outdoors pursuits. Founded by backyard hunting enthusiasts, they seek to capture all that is good, bad and ugly about local hunting. "Quite frankly we hunt in our backyards because we can't afford to hunt anywhere else". In an effort to help fellow hunting entheusiasts find quality, affordable products, BBO also performs product reviews. They have recently reviewed P.E.D. Products small HD action video camera, the ActionCam.
For more detailed information on the hunting application and Big Bow Outdoors evaluation of the ActionCam and their findings, please view the video.
For this application the ActionCam was used as a hunting video camera. ActionCam is an ultra small action video camera that produces high quality true HD 720P video. Small enough and rugged enough, it can be mounted almost anywhere; it's a fraction the size of it's competition and only weighs 1.2 ozs!! It allows you to capture all your Action Videos, here are just a few of the uses people are using the ActionCam for; Car Racing, Motorcycle Racing, BMX Bikes, Cycling, Skiing, Hang Gliding, Hunting, RC Cars & Boats, Rock Climbing, Disc Golf, Paint Balling, Suspension Analysis, etc. Whatever your passion, the ActionCam is the smallest, most versatile HD action video camera on the market. P.E.D. Products is continually looking for new uses and applications. Please send them your thoughts, ideas or recommendations.
For more information about Big Bow Outdoor Production, visit their website at:

http://www.bigbowoutdoors.com/
For more information on P.E.D. Products ActionCam and the line of accessories visit the website: http://ped-products.com